FERCAM Fine Art solutions at RO.ME Museum Exhibition
From 17 to 19 November, the annual RO.ME fair will be held in the rooms of the Museum of Classical Art at the Sapienza University of Rome. Among the exhibitors also FERCAM Fine Art, which will present the services for an innovative and sustainable art logistics.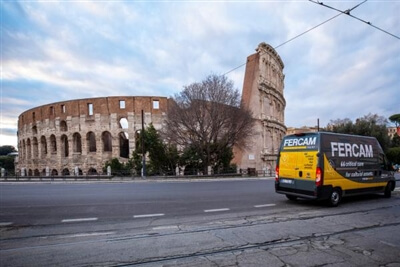 The 2021 edition of the International Fair on museums, venues and cultural destinations is upon us: in the evocative spaces of the university gipsoteca, from Wednesday 17 to Friday 19, it will be possible to meet the major institutions and companies operating in museums, cultural and art sites. Naturally, FERCAM will be present with its Fine Art Business Unit, which brings decades of experience, quality and specialized technical competence at the service of transport and handling of national and international cultural heritage.

On November 19th at 11:30 am, at the Sala Archeologia of the Sapienza University, four distinguished guests of FERCAM will take turns in a panel of interventions, to talk about their experience of collaboration with the Fine Art team and share their vision of the relationship between Logistics and Art. Four influential voices, four different points of view: from sculpture to economy, from conservation to digital tools. In Sala Archeologia at 11:30 on 19 November we will be able to listen to the illustrious testimonies of Jago and Alessandra Cozzolino on the topic "The Art enterprise", and of Isabella Villafranca Soissons and Andrea Concas on "Synergies for innovative solutions".

Critical Care for Cultural Assets: this is FERCAM Fine Art's motto, a vocation that has accompanied its activity over decades of history and that continues to motivate innovation, the search for cutting-edge solutions for transport, set-up and management of artworks and precious objects. Precisely in the name of this innovative spirit, a new triangulated partnership with Open Care and Art Rights was recently signed, thanks to which, in a single point of contact, Customers will be able to find a variety of solutions to their most specific needs, from transport to restoration, from storage to document management and much more. A timely response to market conditions that have evolved and which aims to best support each of the different types of players involved in the sector, with integrated services and in the name of simplifying processes.

Constant attention to the sustainability aspects of its activities must never be lacking for FERCAM. In addition to substantial investments in support of technological innovation and the adoption of alternative fuels for the reduction of climate-altering emissions, there are also social initiatives promoted on a non-profit basis in the context of FERCAM Echo Labs. The Fine Art sector also plays an important role within projects for more sustainable logistics: the wood from transport crates that are no longer usable is destined for various recovery and reuse processes. From the panels were obtained furnishing objects, dog beds for the municipal kennel of Rome, bookcases for bookcrossing activities. Thanks to the mediation of Media Service Recycling, an agreement was also signed with Saviola Group, a company specialized in wood recycling for the production of chipboard panels, to enhance every small residue of this noble material and further reduce the environmental impact of business activities.