FERCAM is present at ROM-E
Companies and public meet to talk about eco-sustainability, new energy sources and smart mobility.
Three days, from 1 to 3 October, in the heart of Rome, will be entirely dedicated to eco-sustainability and e-mobility.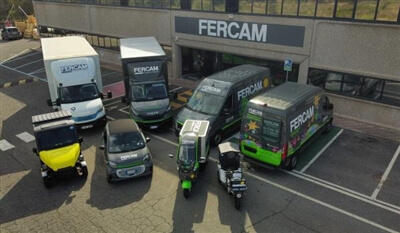 FERCAM at Rom-E
FERCAM, a logistics operator based in Bolzano, who has always been very attentive to environmental issues, will participate in the ROM-E event, presenting the FERCAM Green Logistics project. This sustainable development path is managed by the Regional Manager Dino Menichetti: "I personally believe that it is very important to inform not only professionals but also a large public on the various fields of intervention ranging from ecological to social, from mobility to education".
FERCAM Green Logistics constitutes the sum of the initiatives that FERCAM is adopting to minimize the environmental impact of its business and is divided into three sub-projects. Starting from zero-emission distribution, passing through technological innovations for environmental protection with FERCAM Future Labs, up to FERCAM Echo Labs, an initiative dedicated to corporate social responsibility.
Research and development
FERCAM has managed to involve top research institutions in its sustainable development projects, such as CNR-ITAE, which in addition to technological innovation focuses on the adaptation and transformation of vehicles currently in service with an internal combustion engine into a fully electric or hydrogen hybrids vehicles. A collaboration was also initiated with the LLL (Living Lab Logistics) of Roma Capitale, coordinated by the TreLAB (Transport Research Lab) of the University of Roma Tre.
In addition to various alternative drive vehicles, adopted to reach the zero-emission distribution target in urban centres as soon as possible, the company has equipped itself with latest generation heavy vehicles for long-distance routes. These are partly already powered by ecological fuels, with a clear program that in the medium term provides for the replacement of the entire fleet with even more eco-friendly vehicles.  
Social at the service of corporate wellness
In corporate activities, corporate social responsibility is also of great importance. With Echo Labs, we wanted to go beyond the FERCAM business, to establish a network of collaborations and non-profit partnerships. The synergies created between the CSR programs of the various entities involved will allow each to have an even more significant positive impact, under the aegis of the 17 Sustainable Development Goals of the UN 2030 Agenda.  
One of the first projects already launched in the FERCAM spaces, in cooperation with partner associations, will allow the integrated reuse of waste material from the logistics chain, in particular the wood of packaging otherwise destined for production recycling processes. Biodiversity stations will be built with relaxation areas and some external areas of the Rome branch will be redeveloped. Political refugees, people with disabilities or people in need will be involved in the work, to encourage social inclusion and professionalizing paths.
For more information about the project you can contact Dino Menichetti at 
dino.menichetti@fercam.com