FERCAM strengthens its market position in the removals and relocation sector
FERCAM has finalized a preliminary agreement with Vinelli & Scotto Srl, a historic moving and relocation company, aimed at acquiring it by the end of the year.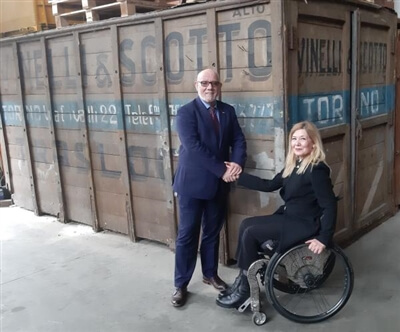 The South Tyrolean logistics company FERCAM has concluded a preliminary agreement aimed at acquiring, under the terms of the agreement signed between the parties, the company Vinelli & Scotto based in Venaria, near Turin and with a branch in Concorezzo, specialized in international removals and relocation.

Vinelli & Scotto boasts an excellent reputation in the world of relocations with important customers who confidently rely on the considerable expertise and quality of their services. Prominent clients include major multinationals, banking and insurance companies as well as international organizations and research and university structures. Vinelli & Scotto boasts many worldwide awards. Under the guidance of CEO Renata Busettini, the small moving company has become a leading actor on the relocation field. "Ours is a particular mediation service that makes life easier for those who move for work reasons", this is how Renata Busettini likes to define her own business.

With this operation, which the company is confident it will soon be completed, FERCAM will also strengthen its position in the international moving sector where it has operated for many years with its brand Gondrand by FERCAM. It is a highly specialized market which, following globalization, has registered strong increases and, even in times of pandemics, has never completely stopped.

The removals activity, offered by FERCAM under the Gondrand by FERCAM trademark, has achieved great results on the national field and finds in Vinelli & Scotto – a company specialized in International Moving – the ideal complementarity. The Relocation service is aimed at companies and their employees and provides for certain services upstream of the international move, ranging from the identification of an adequate housing arrangement for the person, who often moves with the whole family, to the production of documents and visas, at the opening of utilities, up to the enrollment of the children in school.

"This is a very ambitious project for our Removals Business Unit which would complete the package of services we currently offer and would allow us to make a further qualitative leap in our international activities and relocation. Experience and specialization are fundamental in this activity. The expertise of Vinelli & Scotto, the reliability and competence of their employees would constitute a very important additional value for us", is convinced by Davide Aonso, Head of Transport Italy & Special Services at FERCAM.

Renata and Laura Busettini, respectively CEO and General Manager, as well as owners of Vinelli & Scotto srl, have been at the helm of the family business for about thirty years. "Our decision is motivated by personal reflections and is strongly dictated by the desire to continue our business together with our trusted collaborators who have considerable expertise in this field; we are a family-run company like FERCAM is and we have values ​​that unite us in our work" says Laura Busettini.