Jago's Pietà arrives in Rome with FERCAM
(Bolzano, 6 October 2021) From the narrow streets of Rione Sanità in Naples, FERCAM Fine Art transported Jago's contemporary Pietà to Piazza del Popolo, taking care of its installation in one of the suggestive niches in the "Church of the Artists".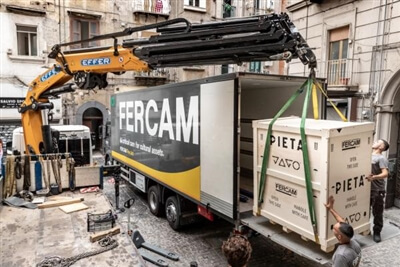 Dallo scorso fine settimana, presso la Basilica di Santa Maria in Montesanto è in esposizione la più recente opera di Jago, toccante interpretazione moderna dell'immagine classica della Pietà. Il trasferimento della scultura da Napoli verso la Capitale è stato effettuato dalla squadra FERCAM Fine Art, con la quale l'artista ha stretto un accordo di collaborazione per i futuri trasporti delle opere alle diverse sedi espositive.

Since last weekend, at the Basilica of Santa Maria in Montesanto, Jago's most recent sculpture has been on display; it is a striking modern interpretation of the classic scene of the 'Pietà'. FERCAM Fine Art, with whom the artist has a partnership agreement for the future transport of his artworks to their various exhibition venues, managed the transfer of the sculpture from Naples to the Capital.

"It is a truly prestigious collaboration", comments Chiara Prisco, Head of the Fine Art Business Unit. "We are delighted to have been able to build what we hope will be the basis of a lasting partnership with an artist who not only has genuine talent and a very interesting artistic vision, but entrepreneurial intelligence and a broad awareness of his own historical-social context".
 
Even marble can fly
Transporting Jago's Pietà was not an easy operation, starting from the imposing size and weight of the sculptural group, massive and extremely delicate at the same time. Overcoming the steps of Sant'Aspreno ai Crociferi, where a small crowd gathered to watch the wooden box being lifted, the precious cargo was placed on FERCAM's truck and faced the 230 kilometers that separated it from the first exhibition site. Here, in a side chapel of the Basilica that already testified to a historical link between spirituality and art, FERCAM Fine Art expert technicians patiently prepared the scaffolding, then placed and secured the pearly sculpture on its new pedestal.

"It was an incredible experience because I got to understand something I didn't know: organizing such a transport operation may seem simple, but there is great specialization and talent behind it. Getting to the Pietà took all 34 years of my life: I entrusted it to those I knew would take the utmost care, at all times", were Jago's words after the installation phase was completed.

The careful work carried out by FERCAM's team also establishes a particular parallelism with the historical past of the company: in 1964, Gondrand (later acquired by FERCAM) was responsible for transporting Michelangelo's Pietà to New York, in the only trip of it ever faced.
 
Information about Jago
Jago, born in 1987 in Frosinone, is an artist who has managed to combine artistic talent and communication skills, earning the nickname of "social artist". He works in the fields of sculpture, graphics and video production. His artistic search is rooted in techniques inherited from the masters of the Renaissance: he uses marble, a traditional material, to tell the stories of our contemporaneity.