Reduced emissions for high fashion transport, thanks to FERCAM
Hermès-branded clothing and accessories were the protagonists of an exclusive event at the Officine Farneto in Rome. FERCAM took care of transporting the equipment for outfitting and the entire assortment intended for sale from Milan, using LNG vehicles to reduce the environmental impact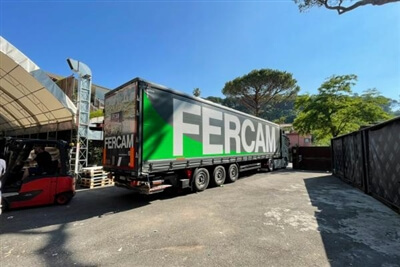 "At the beginning of June, our department was involved in organizing a very interesting transport, on behalf of Restuccia Allestimenti Srl", says Luca Mennella, Department Manager for Freight Management Italy at FERCAM Piacenza. "This is a customer with whom our branch has been in an excellent relationship for years, which operates nationally and internationally for the organization and setting up of trade fairs, events and congresses. In the past, we have often managed the transport of equipment for trade fairs on their behalf, particularly in Lombardy".

On this occasion, the Freight Management Italy team was in charge of managing the transfer of materials from the centre of Milan to Rome, where in the first two weeks of June an exclusive sale of used clothing and accessories from the famous French Maison Hermès was held.

Traffic in the Navigli area in the Lombard capital was blocked to allow loading operations. FERCAM first took care of the transport of all the technical equipment for the installation, using a Liquefied Natural Gas vehicle for the delivery of the goods. "We are happy to have been able to use one of our most innovative vehicles on this national route, which has allowed us to considerably reduce the impact on the environment of this operation", comments the Department Manager. Relying on one of its trusted partners, FERCAM also supplied a vehicle for the transport of hanging garments.

The event was set up at the Officine Farneto, a large hub for trade fairs, just outside the historic heart of the capital. Considering the high value of the goods transported, the Customer requested the guarantee of a safety level of the vehicles in line with the standards set by the Vanini level 2 scale and a second driver on each vehicle, to avoid having to interrupt the journey. Mennella continues: "A lot of patience was also essential, because the loading and unloading operations were very long and entirely carried out by hand. The loading of the vehicles started at 22:00 on 2 June and ended at 05:00 on the following day. Once the load was finished, the vehicles traveled escorted by two cars to reach their destination in the early afternoon".

At the end of the sale, FERCAM managed the return of all the equipment and the few unsold items, always using the ecological LNG technology and concluding an all-round service that fully responded to the needs presented.
Luca Mennella concludes: "we are very proud of the organization of this highly personalized service: the customer has shown that he is very fond of FERCAM and has been able to recognize our value, even going beyond the mere economic aspect of our proposal. We have responded to this demonstration of trust by giving our best, with total availability and management of out of hours activities, which has been able to repay us immediately with great satisfaction and with the gratitude of our customer, Restuccia Srl".