Road & Rail / FERCAM Full Truck Load
FERCAM: On time, fast and environmentally conscious
With its large fleet of vehicles and extensive road and rail transport network throughout Europe and across the Mediterranean, FERCAM satisfies the transport needs of its clients thanks to its long experience with Full Truck Loads.
 
Whether it's road, rail or combined transport, FERCAM plans optimal transport solutions for its clients, based on their specific needs. In choosing FERCAM as their transportation partner, clients can trust a top level service to match their requirements while helping to safeguard the environment.


FERCAM has always been attentive to the environmental impact of its transport services. This is proved by the renewal of its fleet of vehicles that constantly meet the latest European emission standards. FERCAM's team of experienced, professional drivers attend 160 refresher courses a year to maintain their driving skills at peak level.
FERCAM works 365 days a year, 24/7, to ensure the traceability of your goods, offering guaranteed services backed up by a team of experts.

Besides the transportation of ordinary cargo, FERCAM's transport services include refrigerated transport, Dangerous Goods by Road (ADR) and abnormal/oversized loads.
FERCAM Fleet of Transport Vehicles
Since 1949: our fleet of trucks at your service
FERCAM owns a big fleet of vehicles that guarantees load capacity and availability 365 days a year. FERCAM has a range of different vehicles, constantly under control to ensure safety, respect of the environment and energetic efficiency. FERCAM also believes in the importance of professional development for its drivers, and offers them hundreds of courses every year, in order to optimise the safety on the road and of the goods.
FERCAM Intermodal Transport Solutions
FERCAM is at your service on road and rail
Rail transports and intermodal solutions are an important part of the services offered by FERCAM, and that's where it took its name from, in 1949, the year of its establishment. In fact, FER stands for railway (in Italian "ferrovia") and CAM stands for lorry (in Italian "camion").
FERCAM is member of the most important intermodal societies: HUPAC and CEMAT. Since 2007 FERCAM has owned a company train with daily departures towards North Europe. 
Rail transports have a lot of advantages compared with road transports. First of all they allow a 15% larger carrying capacity and a higher velocity on long routes, which also contributes to reduce the CO2 emissions.
FERCAM MED: The Assurance of Professional Transport
Customs handling: we save you time and money
If your market is the Mediterranean, FERCAM has the solution. One branch in Morocco, coordinated from Barcelona, one in Tunis, collaborating with the Livorno branch, one in Turkey and a developed network of trusted partners: this is how FERCAM manages the transports to and from Mediterranean countries with success.
On demand, FERCAM expert staff carry out the fiscal and customs procedures for you. Its bonded warehouses are made available, so that the VAT payment is suspended until the goods are effectively put on the market.
With FERCAM you can be sure that your goods are in safe hands. Different warranty solutions are offered: All Risks, CMR or ad hoc policies for specific needs.
FERCAM Transport at Controlled Temperatures
FERCAM transporting fresh produce: guaranteeing quality
Today's shipping services are required to be fast and totally reliable. FERCAM FRESH offers fully equipped vehicles for any full truck load or partial
transport under controlled temperature
, be it refrigerated goods, chemical or electronic goods, or drugs.
FERCAM FRESH ensures:
on-time delivery, vehicles travelling round-the-clock, express service with two drivers
flexibility, same-day deliveries, 365 days a year
just-in-time shipments with specific arrangements
environmentally-friendly vehicles
company-owned semi-trailers with temperature recorder and printer to efficiently monitor the temperature throughout the journey
aggregate refrigeration units to set the temperature from + 30° to - 30°
dedicated semi-trailers for food, non-food or fresh meat transport
Ro-Ro connections
To and from Morocco, TUNISIA/LIByA E TURkey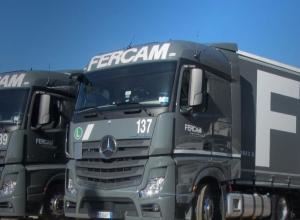 Fercam offers Ro-RO connections to and from Morocco, Tunisia/Libya and Turkey with special equipment. Our branches of competence are Barcelona - Tangier, Livorno - Tunis, Istanbul - Cologne, Munich, Milan.
Our equipment:
Box trailer 3mt 13,60
Refrigerated trailers (-30°C a +30°C)
Mega trailer 3mt 13,60
Standard trailer 2,65mt 13,60
Swap body Containers 45''