FERCAM Emission Free Delivery now in Bolzano
FERCAM brings the last mile carbon neutral delivery project launched in Rome to Bolzano, expanding its vehicle fleet to provide sustainable delivery service in the city center LTZ with latest generation electric vans.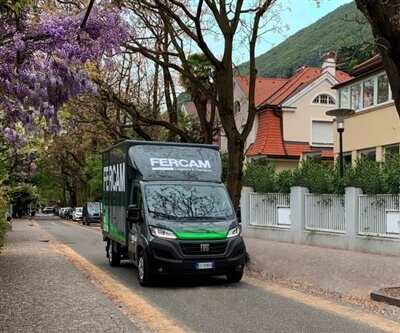 For deliveries in the Limited Traffic Zone of the South Tyrolean capital, FERCAM has adopted the most recent model of FIAT E-Ducato electric vehicle. That is the first of its kind circulating in Italy. It is powered by a 47 kWh battery and has about 120 km of autonomy. In addition to being environmentally friendly, the Fiat E-Ducato ensures drivers a higher level of safety, as it can only be started when the seat belts are correctly fastened and both the driver's hands are positioned on the steering wheel.
 
FERCAM Emission Free Delivery pilot project launched in 2020 in Rome
Always very attentive to sustainability and minimizing the environmental impact of its activities, in 2020 FERCAM launched in Rome the Emission Free Delivery project (distribution of goods without releasing any pollutants produced by endothermic engines), which after an initial test phase, it will now gradually be extended to all company's national branches.

The pilot project envisions a progressive fleet renewal and improved energy efficiency for the organization of storage and distribution of goods, which therefore involves both vehicles and warehouses of the South Tyrolean logistics operator. As the first step of the project, FERCAM has decided to start a collaboration with the CNR Itae (Institute of Advanced Energy Technologies), with the aim of testing new types of powertrain for its trucks and vans, using biomethane and hydrogen coupled to the electric. The ultimate goal is to identify the type of zero-emission vehicle most suitable for the distribution of goods within cities.

After the pilot phase started in Rome, the Emission Free Delivery project continues to develop also in the LTZs of other Italian cities: in addition to Bolzano, FERCAM's Trento branch has recently introduced an electric vehicle for deliveries in the city center, and the initiative will soon be replicated in Milan, Bologna and Como.

«We are happy for the opportunity to bring our Emission Free Delivery project in a city that is sensitive to the issue of environmental protection like ours, with this latest generation, ecological and safer electric vehicle. We are seeing very positive reactions to our commitment to zero emission deliveries in the historic center», comments Paola Tagliari, Department Manager - Distribution, FERCAM Bolzano.