Careers at FERCAM
Welcome to the FERCAM "Work with us" page! We are pleased that you would like to learn more about the FERCAM world and what it means to work in a family-run yet international company.
Our strengths are represented by 6 keywords: expertise, quality, technology, ecology, safety and growth. We are proud of our shared culture, our values and our mission.
What sets us apart?
Pragmatism

Passion
FERCAM is a well-structured international company, but at the same time we are a flexible and dynamic organisation, capable of adapting to the changing needs of the market. Since 1949, we have never stopped growing, but our spirit remains that of a family business, where the priority is on people. We firmly believe that putting the right person in the right place is the key to our success, today and in the future.
What will you find in FERCAM?
A cutting-edge multinational company
A family feel yet with a challenging work environment
Opportunities for learning and growth
Moments of sharing and events
A dedicated insertion plan
Reserved affiliation agreements and discounts
Testimonials
There is a particular spirit at FERCAM, grounded in shared values. The way I see it, the company is founded on 3 pillars that make it great: a new and interesting experience every day, thanks to its diverse activities, key figures and contexts, which require us to be creative and flexible. The caring about eco-sustainable solutions, from alternative fuel vehicles to procedures for reuse and recycling of packaging materials. Then there is a strong sense of belonging and team spirit, i.e. the constant search for a deep-rooted working harmony between colleagues in the pursuit of timely and optimal results achieved together.
Daria
Testimonials
FERCAM is a structured and diverse company in which people who want to set challenges for themselves and grow will certainly find opportunities to achieve their goals. But despite its size and complexity, I have always been struck by the way the company cares for the well-being of its employees. In this company you don't feel like a number because there is always a focus on peoples' individual needs.
Davide
Testimonials
I received a very warm welcome by my colleagues, who made me feel immediately at home and proved to be extremely friendly, helpful and supportive. For one who loves a dynamic environment, this is the perfect job: every day the wok is different and there are new challenges to face. I particularly enjoy interfacing with our partners abroad and I feel that my skills, both linguistic and professional in general, have already been greatly enriched.
Asia
Testimonials
FERCAM gave me the opportunity to pursue my dream: to fulfil the aspirations at the root of my study choices and move to an Arabic-speaking country. I experienced it as a reward for my commitment over the past years, for the effort shown in wanting to accept challenges without ever leaving the field. For a year now I have been working at the Tunis branch and I can say that I am really happy with this new experience.
Ingrid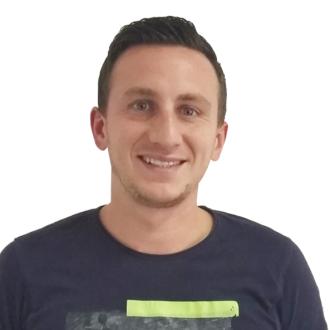 Testimonials
When I started working for FERCAM, the first positive thing I noticed is the relationship between people. I found colleagues who were willing to help each other out, and managers who congratulated people for a job well done. It is a solid company, in which I feel protected, but above all a company that offers great learning opportunities and where you can grow. I have a defined path ahead of me, which will allow me to give value to my skills and to learn new ones.
Alessandro
Testimonials
When I moved to Bolzano, I was looking for a stimulating job opportunity where I could grow both professionally and personally. I can say that I found it at FERCAM: I started with an internship and over the following years I was able to enjoy many different experiences in the financial field and in management control. It is a dynamic and modern company, a youthful environment where I have also made many new friends.
Celeste