Custom solutions for removals and relocations
We offer ad hoc solutions and business agreements tailored to your needs
Specialized service throughout the Italian national, and international territory
With the historic brands GONDRAND and Vinelli & Scotto, the FERCAM Removals & Relocation Business Unit offers a complete package of services available nationally and internationally, always with a guarantee of quality and precision. Solutions dedicated to the world of business and private removals, as well as relocation and related bureaucratic processes, storage, and document management.
The advantages of Gondrand by FERCAM removals
Network of highly qualified agents
accredited by the major international removal associations

Specialised vehicles and an experienced team
guarantee a complete service

Free site survey
to ensure the best response to your needs

Tailored item packaging
for appliances and equipment and maximum care during transport
GONDRAND National removals
Safe and designed removals on national territory
The brand GONDRAND by FERCAM offers an accurate and studied relocation service for companies and privates throughout Italy. Our highly qualified personnel carry out a complete service, from the inspection and preparation of the quotation, planning in detail of all the steps of the move, up to the execution. The packaging and handling phase is carried out with absolute care and caution, in order to preserve every single product in its entirety. For industrial removals, Gondrand by FERCAM is attentive to the needs of the customer, preventing the movement of offices or industrial facilities from interfering with the company's activities.
Vinelli &Scotto international removals
International moving services: to transfer your world into the World
At Vinelli & Scotto by FERCAM we manage the entire international relocation process. Thanks to a flexible structure, a team of qualified operators belonging to the major Associations of International movers and the availability of state-of-the-art equipment, we move all types of furniture, boxes of all weights and sizes worldwide, with the aim of facilitating the customer in every phase: from the preparation of the boxes to the assembly of the furniture in the new home or office.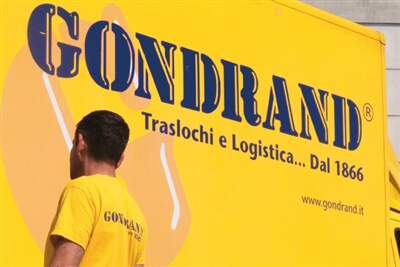 Contact us for your removal
Storage
FERCAM provides you with over 70,000 m2 of storage space for goods storage, both for short and long term. We carefully store every type of product in our warehouses, ensuring maximum safety thanks to the technological surveillance systems we are equipped with. 
Relocation services
Through a 360° service, we take care of you and your family with orientation tours, home and school search, and setting
We make your move a unique, positive and peaceful experience.
The guided tours organized by us will help you to deepen the knowledge of the new territory, making this "first appointment" an opportunity to better know the new housing solution and the most suitable areas to recreate your personal space.
Through years of presence in the industry and listening skills, our team is determined to understand your needs and thus propose appropriate housing solutions for your home search.
To ensure that your children have a suitable education even during the relocation period, our operators carry out accurate research and presentation of the best school solutions.
Our Relocation services also provide practical bureaucratic help for integration into the new environment. We take care of getting you all the necessary documentation, such as ID card, passport, tax code and everything you need to complete your paperwork.
Each service is designed to facilitate and make pleasant and hassle-free the entry into your new living space and environment.
You may also be interested in...