Transport of Works of Art: the FERCAM Fine Art sector
Transferring works of art is an extremely delicate and complex task. For this reason, a great deal of experience, professional ethics and passion for our sector are essential.
Specialised domestic and international transport and storage service for works of art
The cultural and human value of the Artistic Heritage we deal with is often far greater than its commercial value. We offer our customers an attentive and specialised service in Italy and abroad, which is the result of a solid combination of years of experience and innovative techniques. FERCAM's Fine Art service is customised according to the needs of our clients, whether they are museums, galleries, auction houses, artists or private collectors. The service includes the option of an All-Risks guarantee on transport and handling, based on the value of the works of art transported.
The advantages of FERCAM's works of art transfer service
Dedicated deposits and vehicles
We guarantee the highest security measures for your works of art
Highly specialised technicians
they handle special transport and set up major exhibitions
Packaging design for works of art
we create high-quality customised packaging in our specialised carpentry workshop
Exhibition setup
architectural consultancy, operations for hanging, positioning and installation of works
We offer a wide range of additional services:
Design and development of museum crates
Handling of Fine Arts paperwork and procedures
Handling of import and export customs procedures
Status Check of the condition of the works of art
Cataloguing of the items entrusted to our care
Creation of dedicated transport logistics timetables
Paperwork for All-Risks Guarantee procedures
Courier Services (Works personal escort service)
Collaboration in the study and development of technical layouts for installation and hanging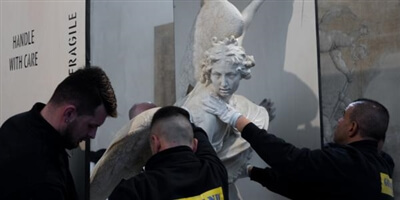 You may also be interested in...
Contact us for the transport of works of art